UPCOMING EVENTS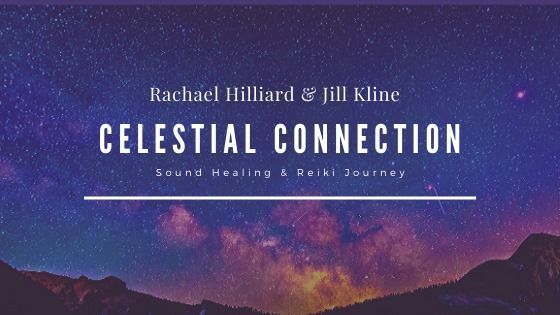 SOUND HEALING & REIKI JOURNEY
Fri., Dec. 13th . 7-9pm
$20 (online at Eventbrite.com/Celestial Connection)
$25 at the door
Wellmind Coffee and Botanicals
2300 Highland Village Road, Bldg 9
Highland Village, TX 75077
🌟 Join Rachael & Jill on December 13th at Wellmind Coffee & Botanicals for a beautiful Celestial Connection-Sound Healing & Reiki Journey Connecting You To Your Spiritual Team. Opening Up Your Awareness & Activating Your Intuitive Gifts.
✨As you are guided through a journey to connect to the celestial energy and your spiritual team, your awareness will open and activate intuitive gifts within. Empowering you to align to all of the beautiful wonderful opportunites and experiences that you dream of!
Rachael Hilliard, an Akashic Sound Healer & Spiritual Guide will be leading you through grounding breathwork, a celestial meditative journey and sound healing using singing bowls & a Uranus planetary gong.
Jill Kline , Reiki Master & Practioner, Spiritual Guide and healer will be moving person to person during the journey, sharing hands Reiki energy to activate and align you to your highest self. Elevating your vibrational energy and ethereal connection.
Wellmind Coffee & Botanicals are graciously hosting us in their beautiful space. They offer multiple natural products to help catapult you further on your spiritual journey!
$20.00 online ticket registration (excluding tax) $25.00 at the door on the day of event.
** Make sure to bring a Yoga Mat, Pillow, Blanket For Comfort. We will be laying on the ground on top of our mats so any props or cushions are welcomed. Journey and water is always a wonderful addition!**
**************************
REIKI FIRST DEGREE
Sunday, Jan 5th, 2020 2-5pm
Stillpoint Massage & Reiki
$175.00
In this beginning class, you are initiated into the Reiki energy by means of an "attunement", a process handed down from Dr. Mikao Usui (the founder of Reiki) that aligns your Chakras, allowing your body to tune into the direct Source of Reiki. You will learn about the history of Reiki, what to expect following your attunement, self-treatment methods, how to connect to the Reiki energy, and the movement of Reiki through the physical, etheric, and spiritual energy fields that surround you. The class takes about 3 hours, and it is best to avoid drinking any caffeine or eating a heavy meal beforehand.
**Please RSVP to Jill at 972-358-4068 or jkline62@aol.com by Jan. 2nd**